HUMAN RESOURCES
Recruitment Policy
The recruitment policy of Koza Gold Operation is determined by giving a priority for development of the region. For employment of new personnel, there is a process of recruitment starting from the nearest villages. Having established the criteria for the recruitment of new personnel, first priority is given to our neighboring villages then followed by other surrounding villages. As the recruitment requirements are not met locally, then the applicants from the nearest city, province and Turkey are assessed respectively. For example, for Cukuralan operations, priority is given to the applicants from the villages of Çukuralan, Nebiler, Gökçeağıl, and Kaplan, which are along the border to mine site, then the villages of Kıratlı, Kocaoba, Samanlık, Yenice, Çağlan, Mazılı, and Kozak. If suitable candidates can not be found to meet the requirements in these locations, search will be conducted at Bergama and Dikili regions to recruit qualified personnel.
Within the guidelines of this policy, local recruitment account for 87% of our workforce for Cukuralan, Ovacik and Kaymaz and 82% for Mastra Operations and remaining 13- 17 % represent the group of professional employees from outside the local area.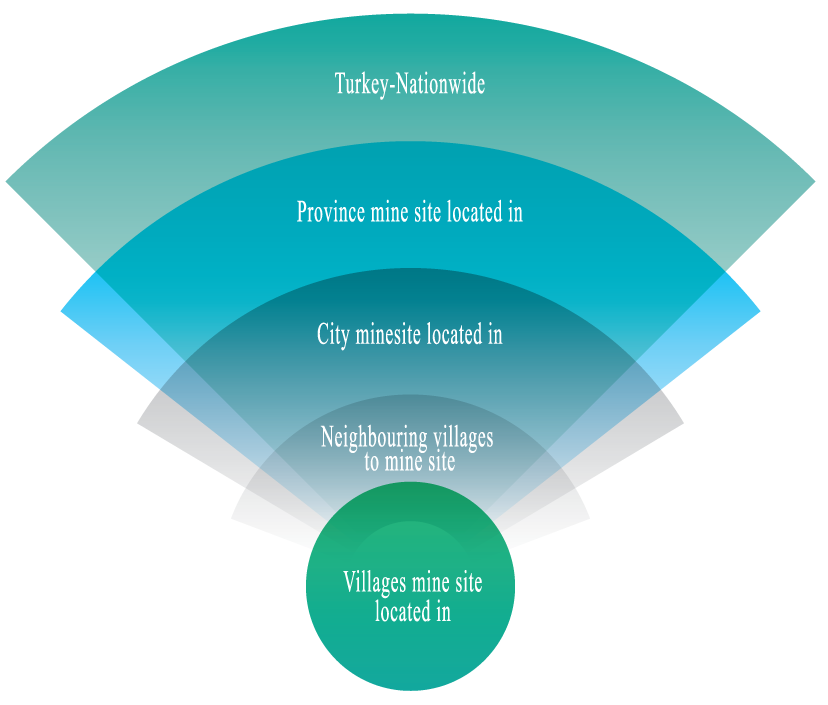 Recruitment Process
To meet the personnel needs listed to Human Resources Department, search is made on CV data bank for the applicants who are given priority in accordance with Recruitment Policy. If suitable applicants can not be found then job advertisements are placed on the newspapers, radio and/or Career net on the internet. Local advertising papers and radios are given priority for placement of ads. Following assessment of applications, the applicants who are found to be suitable for the advertised jobs are invited for interviews, which are conducted by a panel of the officers from HR and relevant departments. HR evaluates applicant's behavioral competency and his adoptability to company's culture while technical department assesses applicant's technical ability.
In recruitment of blue-collar employees, applicants are tested in four stages, recognized to be reliable by the mining sector worldwide. These tests covering Matrix, Mathematics, Reading-Understanding and Mechanical Judgment reflect applicants' cultural and skills levels and assist to measure their abilities in making correct decisions in a limited period of time. These tests will also help to employ conscious people about job safety thus to minimize possible accidents, if they are recruited.
At the end of interviewing process, the panel completes assessments on all candidates and HR makes a job offer to the candidate who has been selected for specific position then recruitment process continues to take place.

Training and Development
A first rule for an employee of Koza Gold Operations is to go through a detailed training covering the matters for Job Safety, Environment and Public Relations. Contents of training include all details an employee needs to know to be able to create safe working environment. Employees not receiving such induction are strictly not allowed to commence to work.
Those who have successfully complete training period are included into orientation program by HR to go to on the job training. New employees regardless of their background experience will not be allowed to work unattended until they learn mining rules and complete on the job training. Their works will be closely supervised by an experienced observer. During performing their duties, employees will be participating in trainings to increase their occupational competencies as required by their departments or take part in trainings for personal developments planned and organized by HR.
Training needs of employees' vocational and personal development are jointly determined by their departments and HR. Having established training needs, external trainers are invited to provide appropriate training on the mine site or some of the employees are sent to trainings organized by training companies outside the mine site.
Since 2005, the Company has provided an average of 51.5 hours of training for its employees this means that an employee has had almost 7 working days of training in a year.

Performance Management
Each year, our staff employees (white collared) are paid performance bonuses being minimum of one, maximum of two salaries. First performance bonus is paid to all employees in lump sum and second performance bonus calculated as 60% is based on company's achievement of its targets and 40% is indivual's own achievement.
Our staff employees are evaluated with target based (s.m.a.r.t) performance assessment.
Each year in December, next year's targets are defined and shared with the staff. In line with company's targets, individual staff is asked to set own personal goals by naming minimum of three and maximum of six targets, of which at least one will contribute to his/her personal/career development and one will contribute to development of his/her subordinate, if there is.
Targets mutually assessed with department managers are defined and reassessed at the end of following year and considered in calculating annual performance bonuses.
Fringe Benefits
In addition to the standard benefits such as transport and meal services, the Company provides Individual Retirement Policy, where premiums are jointly contributed by the company and employees and our staff employees enjoy Private Medical Insurance, for which premiums are fully paid by the Company. Furthermore, depending on the type of the position held by employee, additional benefits such as mobile phones with limited credits, company cars or accommodation allowance are being provided by the Company.
Vocational Groups Employed at the Mine Site
Mining Engineer
Mechanical Engineer
Chemical Engineer
Chemist
Accountant
Surveying and Cadastre Technician
Geophysics Engineer
Electrical Engineer
Geologist
Environmental Engineer
Biologist
Biyolog
Agricultural Engineer
Computer Engineer
Translator/Interpreter
Commerce/Management
Public Relations
Public Administration
Statistics
Industrial Relations
Collective Labour Agreement (CLA) signed by Koza Gold Operations Inc and Mineworkers Union of Turkey covers sixth term between 01.01.2012-31.12.2013.
It was agreed under this CLA that during the period of 2012-2013, our union member workers will be entitled to the wage increases, employer's contributions for employees covered in Individual Retirement System, annual heating assistances and annual education assistances for their children and bonuses for Kurban (Feast of Sacrifice) and End of Ramadan religious festival days.
Ethical Values Policy
During entire recruitment process and afterwards, Koza Gold Operations Inc takes into consideration of the criteria for competency, fairness, responsibility, honesty, confidentiality and objectivity
Each candidate is treated equally during recruitment process. Candidate's kinship and/or relative status or financial relationship with company personnel and managers are not considered
During recruitment process, no candidate is asked any question about his/her political views, religious faiths, ethnic background and private lives. In assessing the applications, such matters will not be taken into consideration.
Our Company strictly adhere to these principles during HR process (performance assessment, designation and promotion etc.)
The principles to be obeyed by the employees of Koza Gold Operations Inc are clearly written and defined in the Ethical Principles Procedure. An employee who does not act in accordance with these principles will be dealt in a manner as outlined in the said policy, which is clearly explained to the employees.
Additionally, none of the employees should directly or indirectly offer any valuable items to his/her counterparts, company and subsidiaries and no promises should be made whatsoever to gain any personal benefits or advantages.